ZENITH Cal. 120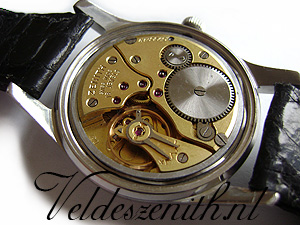 Caliber 120 is one of the top level manufactures developed by the ZENITH brand. It runs with ultimate precisionand is therefore a beloved piece amongst collectors. Insiders easily recognize the movement by the "crown" wheel.
The 120 caliber was originally invented to serve pilots. When the crown is pulled out, the watch stops running. We refer to this as the second stop hacking mechanism. Pilots used it to set their time accordingly at the start of a flight action.
We -and many others- believe that this high quality movement deservers a second place after the almighty cal. 135 in the ranking of manual winded movements.
100.000 produced between 1953 – 1963
Technical details
Manual winded
Central seconds hand
Seconds-stop function
18 jewels
f= 18000 A/h