ZENITH Cal. 135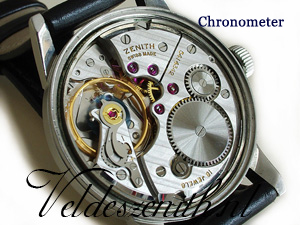 Le Locle, 1947
A place in the Swiss Jura with approximately 12.000 citizens. One of the most important centers of Swiss watch industry since 1700.
At the initiative of Charles Ziegels, who was ZENITH's technical director at the time, engineer Ephrem Jobin starts with the design of a 30 millimeter chronometer caliber.
A movement that could meet market demands as well as the requirements of chronometer time keeping.
A year later – in 1948 – ZENITH presents the legendary caliber 135, which would eventually evolve in a true success story. Until 1962 a little more than 11.000 pieces are produced by the brand. In various editions, of which the flagship model "Port Royal" is definitely the most prestigious one. ZENITH returned once, with the 2000 model in 1965.
Now, more than 65 years later, it's still one of the most beloved chronometer movements.
Ephrem Jobin was employed by ZENITH until 1954. His philosophy was "precision". He was not only responsible for the 135. He also developed the caliber 133 hammer automatic, produced from 1948 until 1961. In the same period he came with the 133.8, which is basically a cal. 133 but runs with a higher frequency. By increasing the frequency Jobin was able to have the 133.8 certified as a chronometer, just like the 135.
In the timeframe 1950 – 1954 ZENITH won a lot of chronometer competitions. With the calibers 135, 133.8 and 40-T the brand broke record after record and received several awards. Leaving Patek, Rolex, Omega and Longines behind with empty hands. In that period, ZENITH was the absolute chronometer specialist.
At the present day Jobin (1909-2014) is still praised by collectors. After his time with ZENITH he worked for 30 years as a curator of the Muséé du Chateau des Monts au Locle.
Serial numbers
Serial numbers are of great importance to collectors as they can give more information about the origin of a watch. For the caliber 135 movement the following numbers can be distinguished:
First series: 1949-1952
3869xxx untill 4062xxx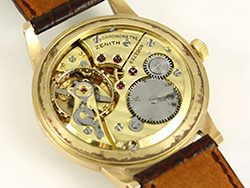 Second series: 1954-1960
4217xxx untill 4872xxx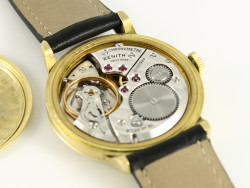 Third series (model 2000): 1962-1966
5362xxx tot 6326xxx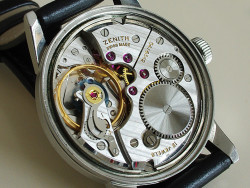 Technical details
Manual winded
Chronometer
13"', Dm= 30mm, H= 5mm
19 jewels
f = 18000 A/h
balance diameter 14mm
11.000 produced